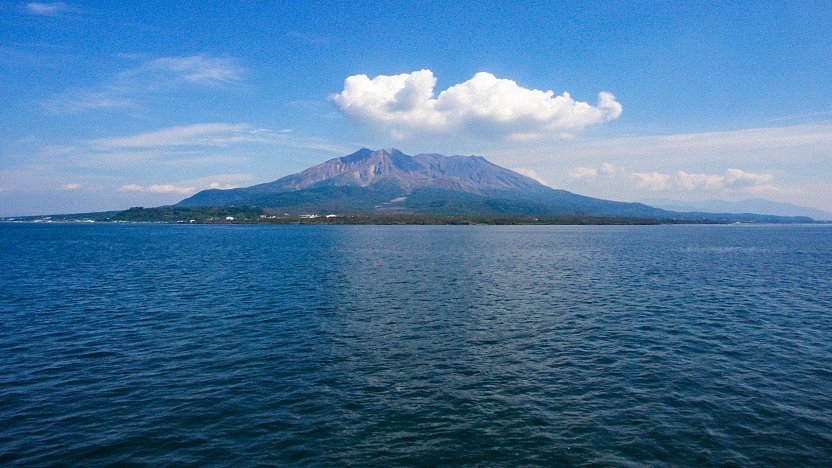 Sakurajima
Sakurajima (sakurajima) adalah salah satu gunung berapi paling aktif di Jepang dan simbol Kagoshima. Gunung berapi ini selalu mengeluarkan asap, dan letusan kecil sering terjadi beberapa kali per hari. Terletak di tengah Teluk Kagoshima, Sakurajima adalah fitur geografis paling menonjol di area ini, Memiliki ketinggian 1.117 meter dan keliling sekitar 50 kilometer.
Sebelum letusan dahsyat pada tahun 1914, Sakurajima dulunya adalah sebuah pulau di teluk, tetapi aliran lahar besar dari letusan itu menciptakan hubungan darat gunung berapi saat ini ke Semenanjung Osumi di timur.masih paling mudah diakses oleh feri yang menjalankan 3.5 kilometer antara Pelabuhan Kagoshima dan Terminal Feri Sakurajima.
Sakurajima has three main peaks: Kita-dake ("north peak", 1117 meters), Naka-dake ("middle peak" 1060 meters) and Minami-dake ("southern peak", 1040 meters). The Minami-dake peak is currently the most active, with many eruptions taking place from the Showa Crater on the peak's eastern slope. It is prohibited to approach within two kilometers of the volcano's craters, but there are many observation points around Sakurajima where eruptions can be observed from about three kilometers away.
Wisatawan yang mengunjungi Sakurajima dapat menemukan banyak atraksi di sekitar terminal feri, termasuk onsen, pemandian kaki, jalur hiking pendek, dan pusat informasi.Mereka yang ingin menjelajahi gunung berapi lebih lanjut harus bepergian dengan mobil sewaan, yang dapat dibawa melintasi perairan dari Kagoshima dengan feri.Bus wisata, bus reguler, dan sepeda sewaan adalah metode perjalanan lain yang memungkinkan.
Sumber: https://www.japan-guide.com/e/e4601.html